Conference on Health, Inference, and Learning (CHIL) 2023
Location
Broad Institute of MIT and Harvard (Merkin Building), 415 Main Street, Cambridge, MA 02142
MIT CSAIL (Stata Center) located at 32 Vassar Street, Cambridge MA 02139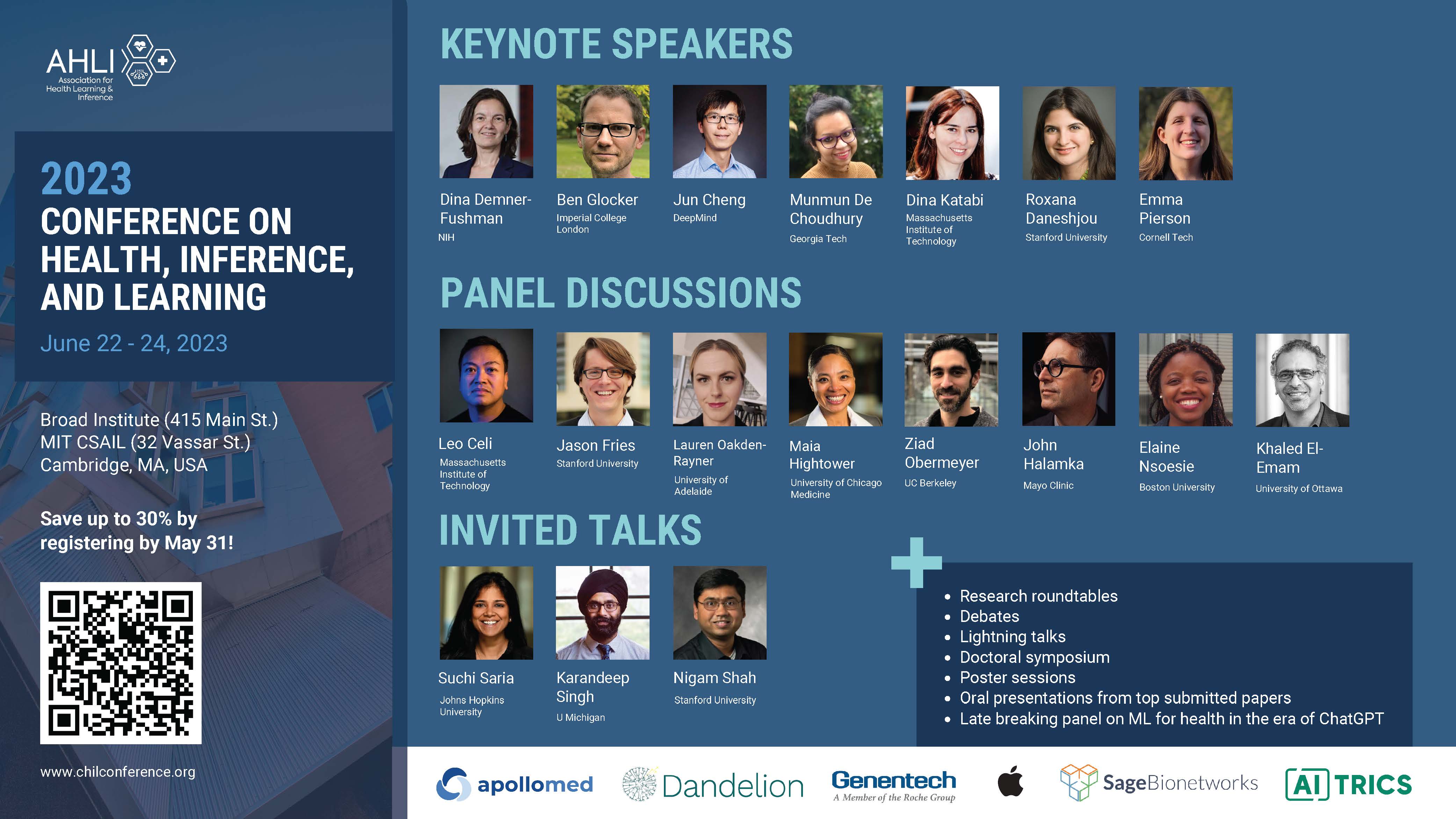 Registration is open for the upcoming Conference on Health, Inference, and Learning (CHIL) 2023, taking place from June 22 - 24, 2023 at the Broad Institute and MIT CSAIL in Cambridge, Massachusetts, USA. 
CHIL is a leading event for machine learning in health, bringing together leading experts and professionals from around the world to share their insights and expertise. With attendees from computer science, health, and informatics backgrounds already registered, this is an unparalleled opportunity to network, learn, and engage with a multidisciplinary community. 
Our lineup includes Dina Demner-Fushman (NIH), Jun Cheng (DeepMind), Dina Katabi (MIT), Emma Pierson (Cornell Tech), Isaac Kohane (Harvard), John Halamka (Mayo Clinic), Suchi Saria (JHU), and Nigam Shah (Stanford). We have an exciting program planned, featuring keynote speakers, panel discussions including a late breaking panel on ChatGPT, invited talks discussing state of health research, intentionally contentious debates, research roundtable discussions, and more!
We have extended the early bird deadline. Save up to 30% if you register before Wednesday, May 31 and secure your spot at CHIL 2023! Limited rooms are available at the Boston Marriott Cambridge, a 3-5 minute walk from the conference venue. Reserve a room at the discounted rate before May 17, 2023.
If you have questions or concerns, please don't hesitate to contact us at info [at] chilconference.org. We look forward to seeing you in June!