New Harvard-MIT HST Co-Director
December 20, 2022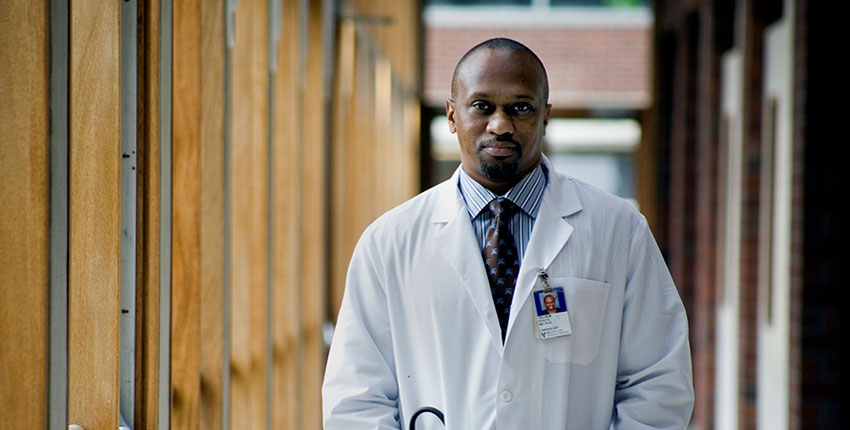 Collin Stultz brings tenacious, collaborative approach to job
Bobbie Collins | Harvard Medical School
Collin M. Stultz, the new co-director of the Harvard-MIT Program in Health Sciences and Technology, would like the Harvard Medical School community to know this about his personality: He is tenacious but can be persuaded by good data — and he prides himself on being collaborative.
Appointed in June, Stultz succeeds Emery N. Brown as MIT's counterpart to Wolfram Goessling, the HST co-director at HMS. Stultz also succeeds Brown as Associate Director of IMES. IMES is HST's home at MIT.
Brown, professor of health sciences and technology at MIT and the HMS Warren M. Zapol Professor of Anaesthesia at Massachusetts General Hospital, stepped down from the HST co-director role, and his role as associate director of IMES, earlier this year after 10 years of service.
With a long academic, research, and clinical career at HMS and its affiliated hospitals, Stultz takes on the role as HST co-director after serving as a member of the HST faculty for nearly 20 years.
Stultz received a bachelor's degree in mathematics and philosophy from Harvard College, his MD from HMS, and his PhD in biophysics from Harvard. He completed his internship, residency, and a fellowship at Brigham and Women's Hospital and is now a cardiologist at Mass General.
As a physician-scientist with a background in mathematics, computation, and biophysics, Stultz leads the Computational Cardiovascular Research Group (CCRG) at MIT, where he and his team use computational methods to model and understand disordered proteins and develop new machine learning approaches that address unmet needs in cardiovascular medicine. In particular, Stultz's group has developed automated methods to determine which patients are at high risk of adverse cardiovascular outcomes and identify the best treatment strategies for those high-risk patients.
Stultz is the Nina T. and Robert H. Rubin Professor in Medical Engineering and Science, a professor in the Department of Electrical Engineering and Computer Science and in the Institute of Medical Engineering and Sciences, all at MIT. Additionally, he is an associate member of MIT's Computer Science and Artificial Intelligence Laboratory and a principal investigator at its Research Laboratory of Electronics.
Harvard Medicine News spoke with Stultz to discuss his goals and hopes as co-director of the HST program.
Harvard Medicine News: What most excites you about this new role?
Stultz: The thing that is the most exciting to me is the potential to make lasting change in the Harvard MIT educational program.
We are currently undergoing a curriculum reform, also called the curriculum innovation, which is spearheaded by Wolfram Goessling. Our objective is to innovate the education of future physician-scientists. For example, there are many areas in the current curriculum that can be updated in terms of the knowledge that students should acquire before they go on to be health care professionals.
One area in need of reform is the application of artificial intelligence and machine learning — methods that have become pervasive in the academic world. Indeed, in my lifetime I suspect that these approaches will play an important role in the everyday management of patients with a variety of disorders. Helping students gain literacy in this area — becoming aware of the promise and limitations of this technology — is therefore very important.
In addition, while equity and inclusion are a part of the HST experience, these concepts are currently taught in an ad hoc fashion. Formalizing this material and seamlessly integrating it into the HST curriculum would help students fully appreciate how societal determinants of health impact patient care. Both Wolfram and I feel strongly that learning to appreciate how inequities in our society affect health care outcomes should be an important component of any medical education program.
Lastly, I am also excited about broadening the experience of MIT scholars, enabling them to benefit from the rich resources that HST brings to bear. There are many MIT students and faculty who work in the biomedical space who are interested in doing translational research. Exposing them to some of the opportunities that are typically siloed to HST MD and PhD students is exciting. Overall, I'm very optimistic about the future of the HST program.
HMNews: What special leadership qualities do you bring to the role of HST co-director?
Stultz: Like my predecessor, Emery Brown, I like to think that I am a collaborative person who seeks input from relevant stakeholders and synthesizes these data to arrive at solutions that benefit our collective community. An important part of this endeavor is also to recognize and learn from our mistakes.
In addition, I consider myself to be a pretty tenacious person when it comes to doing things that I think are in the best interest of students, scholars, and most importantly, patients.
Lastly, as a scientist, I like to think I'm a data-driven scholar. While tenacious, I'm persuaded by compelling data.
I think those are the qualities that I bring to help achieve the lofty goals we aspire to accomplish.
HMNews: As a cardiologist and researcher focused on computational methods and machine learning, what is your outlook for the future of artificial intelligence in biomedicine, and how do you see HST's role in training physician-scientists to meet those needs and challenges?
Stultz: I am guardedly optimistic about what AI and machine learning, in particular, can contribute to the care of patients and the HST curriculum. While these methods have received a fair amount of fanfare in the popular press, an important caveat is that they are not always applicable to every problem. It is therefore essential to understand when the application of these methods is most likely to be fruitful. For example, when we know a lot about a particular system or disease, machine learning may only provide incremental benefit. When we don't have such knowledge, i.e., we don't know a great deal about the underlying pathophysiology, machine learning helps.
A patient presents with a constellation of data: their signs and symptoms, laboratory studies, genetics, socioeconomic status, lifestyle, and more. All of these factors impact a patient's prognosis, but understanding how outcomes are influenced by these data is not always clear. The promise of machine learning is that it can integrate all of these different data types, yielding new insights that can help us make informed clinical decisions. To say it another way, computers can, in principle, learn complex relationships between large amounts of data to uncover which patients are most likely to get sick and what their prognosis is. We can then use this information to arrive at the best individualized care.
Our goal is to impart these concepts to students, helping them decipher instances in which these methods are appropriate, and how these methods can be integrated into the clinical workflow.
HMNews: Do you want to speak to bias with AI, what the promise and perils might be, and how you're going to address that in the curriculum?
Stultz: Humans, by their nature, are biased. Some people strive to understand what their underlying biases are and how to mitigate them. Others may choose to ignore them, but this does not mean that they do not exist. We all have biases.
Machine learning algorithms are designed by people, who have biases. Moreover, the data used to develop machine learning algorithms are often quite biased. The upshot is that there are many ways in which bias can enter into the building and evaluation of machine learning algorithms.
Helping students understand that machine learning methods are fallible is an important part of any educational program that strives to produce educated physician-scientists. Understanding how to objectively identify when bias is present will be an important part of the curriculum redesign. At the end of the day, it is essential that students be aware of how powerful these methods can be, while simultaneously viewing the results of these algorithms with a critical eye.
HMNews: You touched on this before, about how the HST curriculum is being redesigned to address racism in medicine, social inequi­ties, and other nonbiological and structural determinants of health. What are your priorities for centering health equity in the curriculum?
Stultz: You can approach the topic of structural determinants of health in a traditional didactic fashion, where an expert gives a classroom lecture replete with statistics and epidemiologic data illustrating the effects of social inequities in health care. There is definitely a role for this approach. However, I think it may be more effective to present these data on a per-patient basis, with specific examples. This will help to make the effect of inequities on real people's lives more tangible.
For example, two patients with heart failure may have very similar presentations, risk factors, and therapeutic interventions. However, this does not ensure that they will have similar outcomes. Too often, those from economically disadvantaged backgrounds face greater challenges and consequently have poorer prognoses relative to those who are more affluent. The reasons for this are complex, but dissecting why this is so is incredibly important for our mission as health care providers.
Having these discussions using specific examples from our own interactions with patients is one way we can help students appreciate that these issues are not just worthy of scholarly pursuits, but that they affect real lives.
I would be remiss if I did not highlight that the importance of adding health inequity and the social determinants of health is a key concern shared by my colleague Wolfram Goessling. The fact that we have a similar view of medical education is one reason that I agreed to take this job.
HMNews: Is there anything we haven't touched on about how you are envisioning your role at HST that you would like to talk more about?
Stultz: The HST program is unique. It's a marriage, to some degree, between Harvard and MIT. I would like to see both partners in this relationship derive greater benefit from our interactions. There is already a great deal of synergy between both institutions, but I do not believe that we have maxed out our potential for future success and innovation.
MIT has a unique set of expertise, particularly in the fields that I'm interested in: machine learning, artificial intelligence, and computer science applications in the health care space. MIT is arguably the world's epicenter for computer science and engineering. Similarly, Harvard Medical School is arguably the greatest medical institution in the world. Together, we can do great things.
HMNews: What is something you'd like the faculty, staff, and students at HMS and our readers to know about you that is not apparent from your bio. For example, how do you spend your free time?
Stultz: I'm 55 years old, have a beautiful and caring wife and two gorgeous, perfect children, a son who is 7 years old and a daughter who is 5 years old. They're at an age that is necessarily labor intensive. So when I am not working, I am spending time with my family. I try to make it a priority to be there when the kids go to bed at night and to see them each morning when they first get out of bed. It's sometimes challenging, but we've made it work.
I'm a very hands-on dad, which means that when I'm not working, I'm almost always doing something with the kids: attending their soccer games, their kung fu classes, their swimming lessons, and more. We are a very tight-knit family unit.
This interview was edited for length and clarity.
Originally published in Harvard Medical School news.