Tami Lieberman, PhD
Core Faculty
Title
Associate Professor, Department of Civil and Environmental Engineering, Institute for Medical Engineering and Science (IMES)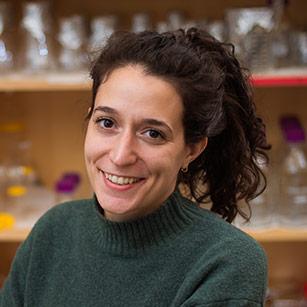 Address
77 Massachusetts Ave.
Cambridge, MA 02139
Administrative Assistant(s)
Tami Lieberman, PhD
Core Faculty
Title
Associate Professor, Department of Civil and Environmental Engineering, Institute for Medical Engineering and Science (IMES)
Degrees
Ph.D. in Systems Biology, Harvard University, 2014
B.A. in Molecular Biology and Genetics, Northwestern University, 2009
Bio
Tami trained in molecular biology and mathematics at Northwestern University, where she conducted research in the laboratory of Jon Widom and was funded by a Barry M. Goldwater Scholarship. She then earned a PhD in Systems Biology from Harvard University, where she conducted research in Roy Kishony's laboratory. During her graduate research, Tami developed new genomic approaches for understanding how bacteria evolve during infections of individual people. As a postdoc in Eric Alm's lab at MIT, she further developed and applied these genomic approaches to understand the microbes that colonize us during health. 
Tami joined the MIT faculty in January 2018, where she now leads a computational and experimental research group focused on within-person evolution in the skin microbiome, with projects spanning from theoretical population genetics to applied probiotics for the treatment of skin diseases. A major thrust of her lab is uncovering the mechanisms of colonization to enable precision microbiome therapies. She is the recipient of a 2020 NIH New Innovator Award. 
Research Interests
Rational microbial-based therapies have the potential to treat a wide range of diseases and promote wellness. However, we remain severely limited in our ability to employ such therapies, as we cannot predict which bacterial strains have the potential to stably colonize an individual. This unpredictability stems from a lack of mechanistic understanding of how single strains and species colonize and evolve in complex ecosystems. The most popular tool for tracking microbial communities, metagenomics (short DNA fragments from mixed samples), has fundamental limitations that inhibit mechanistic understanding.
The Lieberman Lab leverages evolutionary inference to learn the recent natural history of bacterial strains within complex communities to build principles for precisely engineering microbiomes. We use human skin as our primary model ecosystem. Human skin microbiomes have relatively low diversity—facilitating connection between the scales of ecological dynamics, evolutionary dynamics, and molecular mechanism— and are amenable to interrogation of spatial structure. In addition, there are many skin diseases for which microbial dynamics are implicated but poorly understood. We develop computational tools, unique sample collections, statistical approaches to address questions poorly understood for any microbial community
In the long term, we are optimistic that these studies will help us predict which therapeutic strains and co-administered treatments (prebiotics) provide the most potential for colonization, understand the degree to which each person's microbiome requires personalized treatment, and predict how the future evolution of a strain will impact its community and host.
Selected Honors and Awards
NIH Director's New Innovator Award
Smith Family Awards Program for Excellence in Biomedical Research
MIT Excellence. Serving Our Community Award (PPE team)
Selected Publications
Felix M. Key, Veda D. Khadka, Carolina Romo-González, Kimbria J. Blake, Liwen Deng, Tucker C. Lynn, Jean C. Lee, Isaac M. Chiu, Maria Teresa García-Romero+, Tami D. Lieberman+ On-person adaptive evolution of Staphylococcus aureus during treatment for atopic dermatitis. bioRxiv . doi:10.1101/2021.03.24.436824
A. Conwill, A. C. Kuan, R. Damerla, A. J. Poret, J. S. Baker, A. D. Tripp, E. J. Alm, T. D. Lieberman+ "Anatomy promotes neutral coexistence of strains in the human skin microbiome" Cell Host and Microbe [19313128] 30.2 (2022): 171-182.e7. 
S. Zhao*, T. D. Lieberman*+, M. Poyet, M. Groussin, R. J. Xavier, E. J. Alm+. "Adaptive Evolution within Gut Microbiomes of Healthy People." Cell Host & Microbe 25 (2019): 656–667.
T. D. Lieberman, D. Wilson, L. L. Xiong, P. Moodley, T. Cohen, R. Kishony. "Genomic diversity in autopsy samples reveals within-host dissemination of HIV- associated Mycobacterium tuberculosis." Nature Medicine 22 (2016): 1470-74.
T. D. Lieberman†, J. B. Michel†, M. Aingaran, G. Potter-Bynoe, D. Roux, M. R. Davis, D. Skurnik, N. Lieby, J. J. LiPuma, J. B. Goldberg, A. J. McAdam, G. P. Priebe, R. Kishony. "Parallel bacterial evolution within multiple patients identifies candidate pathogenicity genes." Nature Genetics 43.12 (2011): 1275-80.
A full list of Professor Lieberman's publications can be found on Google Scholar.
Courses Taught
HST.538/1.088: Genomics and Evolution of Infectious Disease
HST.508: Evolutionary and Quantitative Genomics
HST.S56: Mining microbiomes: Fundamental insights from public data [seminar]